Indian summer is exceptionally hot, and the demand for Air Conditioner gets to the peak from May to July. To beat the scorching heat, people prefer investing in a good quality AC. With different types of AC available in the market, most of us are confused about which one to buy. The sheer diversity of AC features is enough to give you a mind-boggling experience.
So before going to buy an AC, you should keep a few points in mind so that you can crack the best deal. In this article, we will provide you with in-depth details about different types of AC, their technology, AC features, and much more. This article can serve as the best AC buying guide in India. So friends, read on!
AC Buying Guide: Before you buy check this guide
1. Types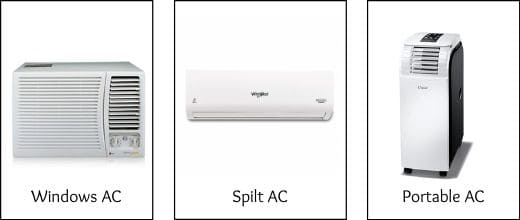 Before going to purchase a new AC for personal use, you must do the homework regarding the market trend. Window AC, split AC, and portable are the most common types which people often use. But now inverter technology in AC is also getting quite popular.
Currently, window ACs have been replaced by split systems because of their compatibility and performance. In the split system, the cooling unit is placed outside the living area. It is best suited for single rooms or connecting rooms.
Portable air conditioners are suitable for small spaces like apartments and shops. Some advanced modules like smart ACs are also gaining popularity because of their additional features like sunlight sensors, and so on.
Inverter type A/C regulates the speed of the compressor to control the refrigerant (gas) flow rate according to the attained temperature set. It has a precise ability to control temperature, and thereby, the power consumption of AC is low. So your billing amount for energy consumption will fall gradually. While buying an inverter AC, it is also necessary to keep in mind the AC capacity in a ton.
2. Capacity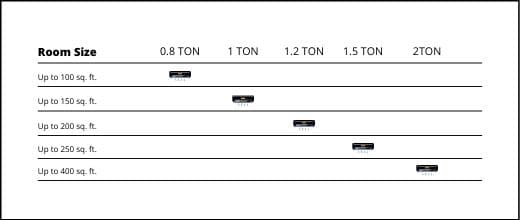 AC capacity in a ton is one of the major points to keep in mind while buying an AC. Before buying the AC, look around your room. Is it large or small? Is it congested or de-cluttered? If the room is small, say less than or equal to 120 sq ft., then an AC of 1.2 ton is enough. In case the room size ranges between 121 to 179 sq ft., you need to invest in a 1.4-1.5-ton AC. Suppose your room is around 180 sq ft in the area or even bigger, then you must invest in an AC with 2 ton or above capacity.
3. Energy Efficiency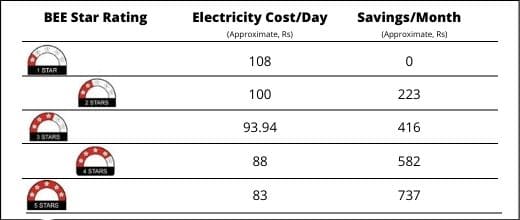 Energy efficiency is another key factor that you should consider while buying an AC system. The Bureau of Energy efficiency is just like a certificate that lets you know if the AC fulfils the Environmental Protection Agency specifications or not. The higher the stars, the lesser will be the power consumption of AC. So always make sure that you buy an energy-efficient system i.e., try to go for a five-star rating. Though it will be a costly affair in the beginning, as an AC with high energy ratings tends to cost more. But in the long run, it will prove to be quite cost-effective.
4. Features
Gone are those days when your AC would just offer cooling. Now is the era of smart technology. So your AC too, needs to be smart enough. There are multiple AC features that you need to consider while buying an AC. In this best AC buying guide in India, we have enlisted a few AC features that you can look for during your next AC purchase:
Self-clean feature
Activity sensor
4D Airflow
Voice command compatibility
App control
5. Aluminum coil versus copper coil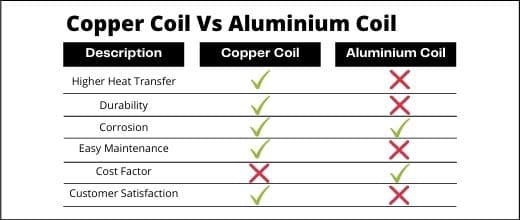 This can be another factor that will help you buy the best AC. In terms of durability and heat transfer capacity, the copper coil has always got the upper hand. But when we come to pliability, an AC with an aluminium coil is the better option as it is fairly pliable and requires less raw material. Both of them can corrode with time. If you are looking for an easy-to-maintain option, then an AC with copper-coil will be suitable for you as it is quite easy to maintain. You will find it difficult to maintain and clean the aluminium coil ACs. Also, note that copper coil ACs will be a bit heavy on your pocket as compared to those with aluminium coils.
6. Consult an HVAC professional
While doing your research can help, you must consult a professional before purchasing, as the person will guide you through buying the best product. A professional will always have the apt knowledge and expertise to guide you in making the right decision and choosing the right AC.
Next time when you are going to buy an AC, make sure to go through this best AC buying guide in India. So, make the most out of this AC buying guide and make a smart decision as you order your AC.
---