Are you an avid listener of music? Do you like listening to podcast shows? Do you prefer listening to your favourite music on the go and while working too? Then you must be having a nice and affordable pair of Bluetooth earphones in India. These Bluetooth earphones have made our lives a little easier, relaxing, and musical. Whether you want to focus on your assignment, or cut off from the chaotic surroundings for a while, or sweat it out at the gym, or simply enjoy some good music, the Bluetooth earphones will always come in handy to you. Their great battery life, compact design, affordability, convenient controls, and wireless mechanism makes these Bluetooth earphones exceedingly popular among the users.
If you are searching for a reliable, cheap, and sturdy Bluetooth earphone of late, then let us help you. There are umpteen number and types of earphones available in the market, and it is absolutely normal to get confused. After conducting surveys and some intense research work, we have curated a list of top 10 Bluetooth earphone for you. In this article, we have presented before you elaborate details about each and every enlisted earphone. This article will serve as a highly beneficial Bluetooth earphones buying guide for you all. Here we go:
Top 10 Bluetooth Earphones List
1. Samsung Original Level U:
With an excellent design, exceedingly good connectivity, enriched sound quality, and 500 hours of standby battery life, Samsung Original Level U earphones top our list. You can enjoy seamless music on the go or take calls conveniently because of its 4.1 Bluetooth version. The earphone looks extremely sleek and stylish because of its uber-cool design.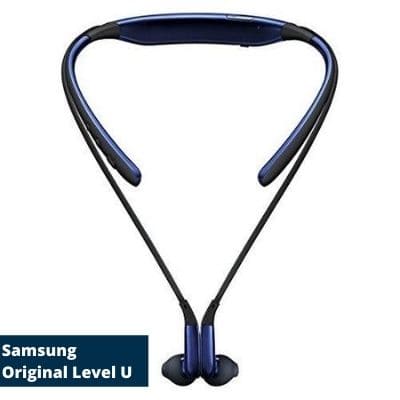 Pros:
The feature of noise cancellation helps you listen to your favourite music or take calls in noisy ambience too.
Easy controlling system
Long-lasting and compact
Cons:
Sound quality is not that good.
The battery needs to be charged quite frequently.
---
2. Xmate Gusto Lite in-ear True Wireless:
This is a sleek and affordable wireless Bluetooth earphone that you will definitely fall for. With this earphone, you are in for HD quality, uninterrupted music. It offers up to 10 metres of connectivity. It s possible to connect this earphone to a dual stereo call without any type of hindrances. The plastic material and unique design make the earphone durable and less prone to damage.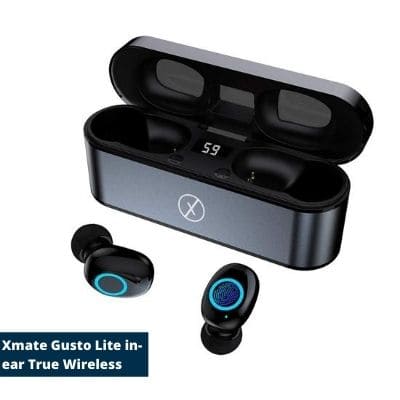 Pros:
Travel friendly
Ergonomic design
Lightweight and compact
High-quality sound
Cons:
Not resistant to water or sweat
---
3. Bose Sound Sport Free:
It helps you enjoy music at its finest best. If you love to workout, then this earphone will definitely be of great benefit to you. The wireless experience keeps you sorted as you move from one place to another or work out in a gym.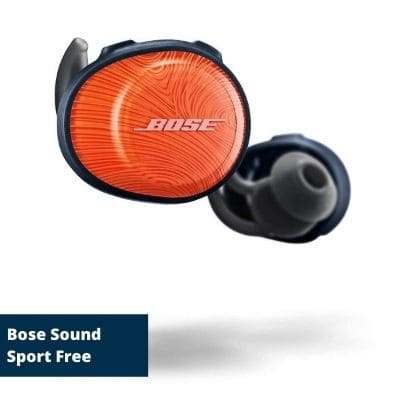 Pros:
Enhanced sound quality
Efficient connectivity
Comfortable and convenient
Resistant to water
Long-lasting
Cons:
A tad bit expensive.
No noise cancellation feature
---
4. Skullcandy Ink'd In-Earphone:
If you are looking for a cheap, lightweight, and good quality earphone, then this can be your ideal choice. You can use this earphone on a daily basis. It is perfect for gym workouts, as well. The crisp and clear sound quality, great battery life, and easy control system make it all the more popular.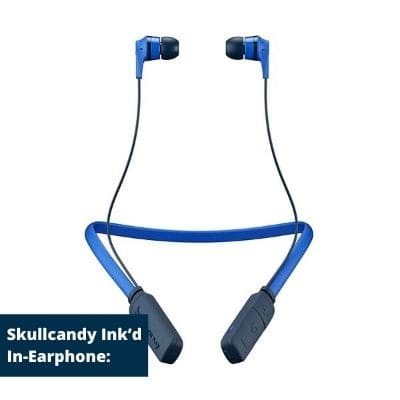 Pros:
Long-lasting earphone
Good battery life
Hands-free calling facility
Comfortable and snuggly
Pristine clear sound
Cons:
Does not look appealing
Poor bass performance
---
5. Noise Shots X5 Charge:
With Bluetooth 5.0 technology, this earphone offers high-quality audio and connectivity of up to 10 metres. The ease of control, enhanced battery life, and distraction-free audio quality make it one of the best Bluetooth earphones in India.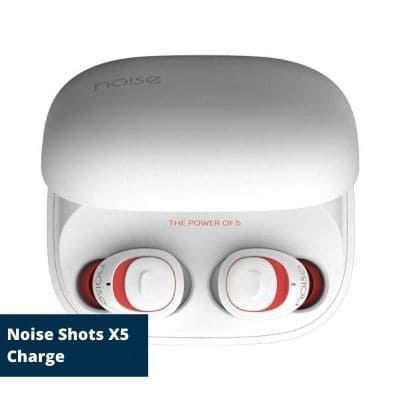 Pros:
Comfortable in using because of the ergonomic design.
Sweatproof and hence can be easily used during workout sessions.
Can be used for voice commands to Siri and Google.
Tangle-free and no mess.
Cons:
There is some scope of improvement when it comes to padding.
The sound quality gets affected when the volume is high.
---
6. TAGG Inferno Wireless:
If you are looking for an earphone with enriching the sound quality and surround sound system, then you should go for TAGG Inferno Wireless. It is extremely comfortable to use. The noise cancellation feature keeps traffic chaos and office noise at bay. Portable and compact, you should definitely give this one a try.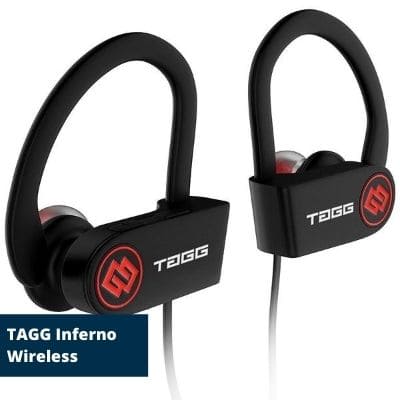 Pros:
Lightweight
Enhanced battery backup
Efficient noise cancellation
Strong connectivity
Cons:
The price is quite high.
Disturbance during long-distance calls.
---
7. CrossBeats Wave:
A snuggly and waterproof earphone, CrossBeats Wave is a good option if you are into fitness regimes. Nanocoating technology at the buds protects the earphone from sweat. The foam ear tips can block out unnecessary noise. Dual paring is possible with this earphone.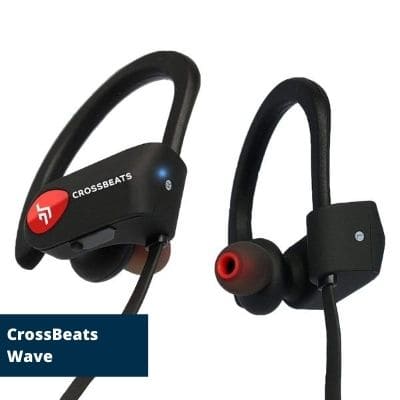 Pros:
Great battery life
Sleek design
Built-in microphone
Cons:
Frequent interruptions during connectivity
---
8. Sony WI-C400:
If you are confused regarding the headphones vs. earphones battle, then for a change, opt for this amazing headphone. Popular because of its acoustic sound quality as well as the tangle-free mechanism, you can definitely try this headphone over any other earphone.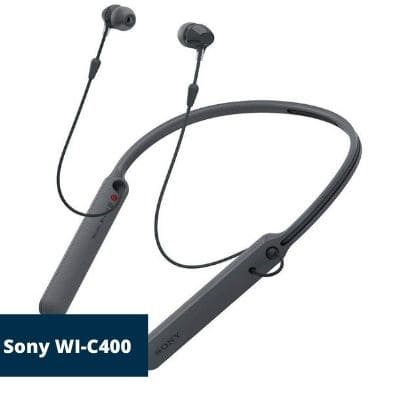 Pros:
Lightweight as well as comfortable.
Durable
An adjuster is available to keep it tangle-free.
Vibrates when you get a call.
Cons:
Poor connectivity
Not resistant to water and sweat.
---
9. Chevron C163:
The features and designs of this earphone make it one of the classiest earphones. It also comes with a charging case. Also, it cuts down on a lot of energy consumption.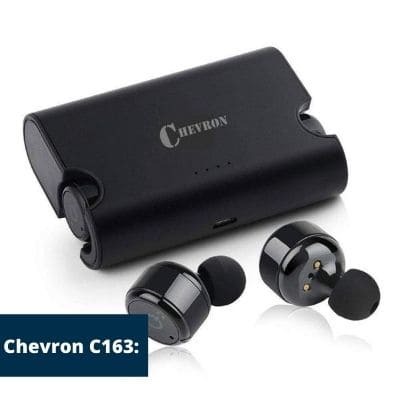 Pros:
Affordable price range.
Compact and portable.
Sleek and stylish.
Cons:
Less availability of this product.
---
10. JBL T205BT:
This one is a pure, bass metal earbud, perfect for producing pristine and powerful sound quality. Feel free to use it every day while working, driving, and exercising. It offers theatre-like surrounding sound system.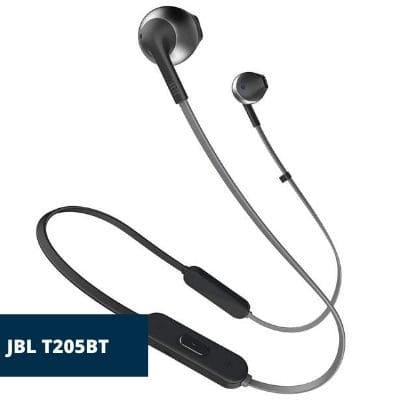 Pros:
Snuggly
Long-lasting
High-quality bass sound.
Cons:
The price is high.
No noise cancellation feature.
---
Amidst the endless debates doing the rounds, for instance, headphone vs. headset, wireless earphones vs. earbuds, and so on, we have kept you sorted by providing detailed information. Now that you know everything about these earphones make a well-informed choice while you place an order online.
---
Check out Best Selling Earphones 2020
---
How to Buy Bluetooth Headphones
If you are going to join your college soon, or an uber-cool gym for burning those calories, or even want to start with those early morning jogging sessions, then it is high time that you level up your styling game. Look around yourself, and you will notice that Bluetooth headphones are quite in trend nowadays. They look exceedingly stylish and also help you keep distracted from the noise around. It is an outstanding option if you love to listen to music. You can work, exercise, study, cook, meditate and take calls quite conveniently with the help of these cool Bluetooth headphones. And you know what? The best part is that you need not struggle with the tangled wires. You can simply put your headphone, sway your body to the beats and enjoy whatever you are doing. A cool Bluetooth Headphone also adds to your style quotient.
If you have been looking for a sophisticated Bluetooth headphone, then by now you must have been aware that there are a plethora of options available out there. If the enormity of options is leading to chaos and confusion, then do not worry at all. We are here to keep you sorted. After extensive research, we have curated a buyer's guide with elaborate details. Once you go through this blog, all your doubts and queries will be cleared. The tips and tricks that we have offered here will help you to buy the best Bluetooth earphones. Following are some points that you need to keep in mind if you want to buy Bluetooth headset:
#1 Price range:
The first thing that you should consider is the price range of the Bluetooth headphone. You will get a Bluetooth headphone in India for as low as Rs 999, and it can go beyond Rs 50,000. So, choose a brand that suits your budget. You can opt for high-end brands like Boat, Tagg, Leaf as well as choose a moderate one like JBL, Skullcandy and so on.
#2 Battery life:
If you go by our words, the best Bluetooth headphones to buy are the ones that offer at least 8 hours of battery life on a single charge. Keep in mind that a truly wireless headphone will not be able to offer much battery backup.
#3 Noise cancellation:
Always choose a Bluetooth headphone that offers effective noise cancellation feature. The noise cancellation feature will help you take calls or listen to your favourite music in the noisiest ambience.
#4 Voice command:
Grab a Bluetooth headphone that offers efficient voice command functionality. This feature enables you to use the headphone with utmost convenience while driving, exercising, cooking, jogging, studying and so on.
#5 Multipoint pairing:
You should purchase a Bluetooth headphone which you can connect to multiple Bluetooth-compatible devices such as a tablet, laptop or phone.
If you have gone through this blog, you must have gained a perfect knowledge about how to buy Bluetooth headphones. We are sure that ours is one of the best Bluetooth headphone buying guides that cater to all your queries. So order your Bluetooth headphone now and make a well-informed decision.