The irony, one of the iconic and epic women outfits in India is the Salwar Suit. However, there are many such outfits that we have in the trend and fashion.
The Salwar suit has been evolved to various types of dresses and patterns which includes Anarkali, Punjabi suit, umbrella cut, Patiala, leggings-kurta and etc. It was previously called as Salwar Kameez. Eventually, the suit was designed in Mughal era, and it started its reign from Punjab, hence it's known as Punjabi suit which comes of the three-piece outfit.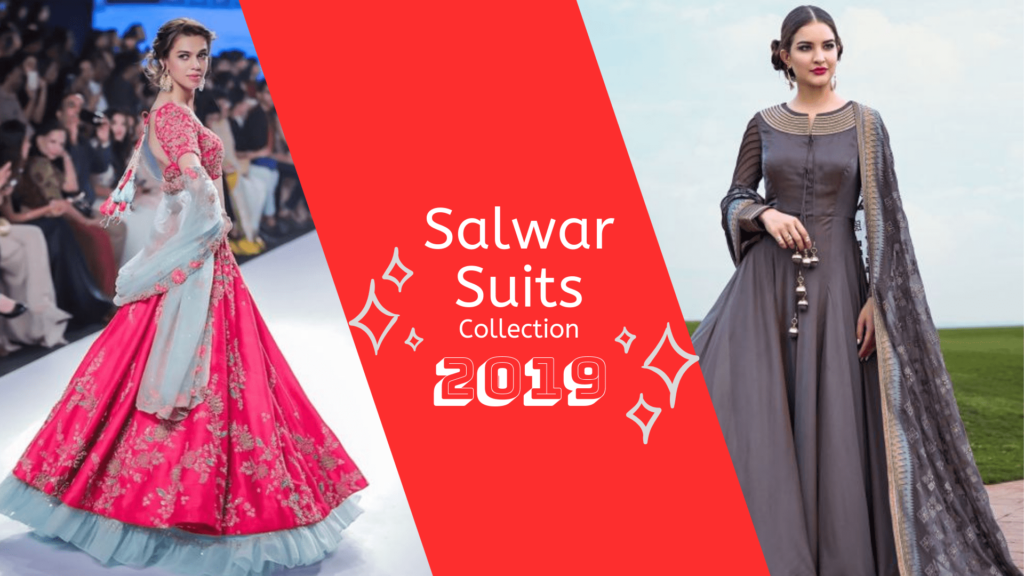 However, there are many more facts about this particular outfit.
To let you know about the trending Salwar outfits in the market we have listed all patterns and designs of salwar Kameez.
Check out the best salwar suit designs that are trending in 2019:
1 . Striped Kurta & Parallel Pant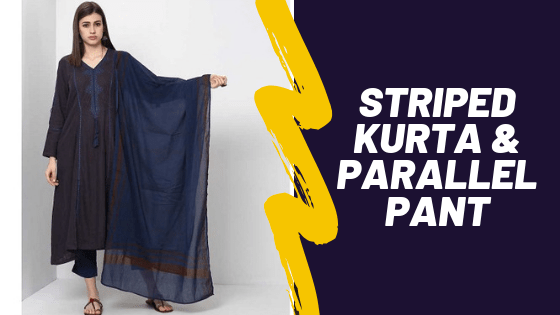 Details: Here we have got one of the in-fashion best Salwar suit designs of 2019, striped Kurta with parallel pant with sleeves. You can get it in several patterns. It is a perfect wear for any occasion. The pant would be parallel, unlike the traditional ones, made of 100% cotton. You have to wash it separately in the cold water and never bleach.
---
2 . Floral Print Kurta & Churidhar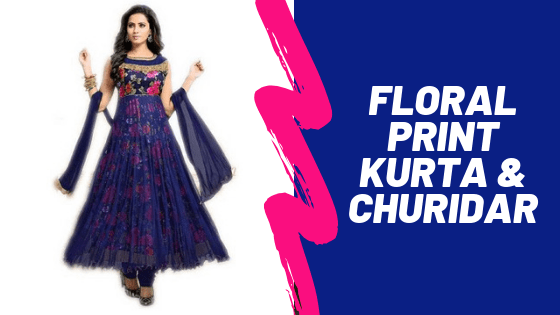 Details: Get this suit stitched or un-stitched. Both available online, at affordable prices. It is known as Anarkali or Umbrella cut suit. Floral print Kurta comes with the sleeveless pattern. It can be worn on any occasion. Well, you have got a wide range of colors and designs to choose from. Just give it a go!
---
3. Saara Poly Crepe Paisley, Printed Salwar Suit Material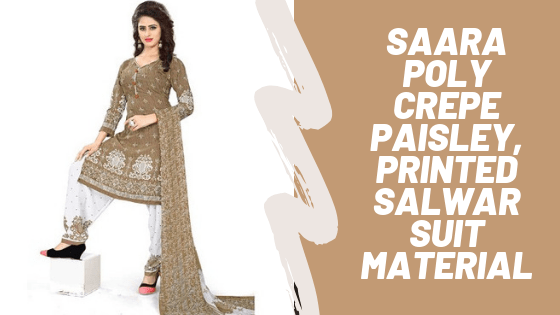 Details: Another popular trendsetter of 2019 that will make you feel absolutely pretty and comfortable. It is just like the old traditional Salwar suit patterns made of pure cotton. The pattern would be paisley. You can, however, look for color variants in the particular latest suit. You can avail various designs in the same dress.
---
4 . Embellished Kurta & Palazzo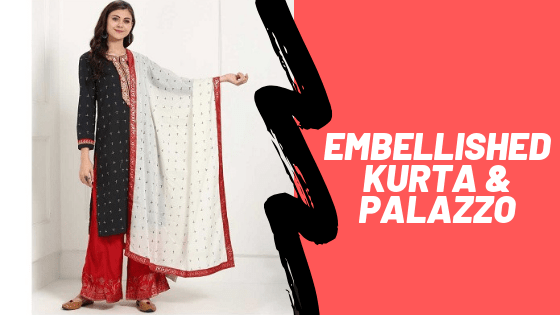 Details: This is another best designer suit trending in the market. If you are looking for something precious and pretty, then this particular Kurta & Palazzo would be the right pick. In case, if you don't feel comfortable or convenient in the traditional suit, then you can shift yourself to this particular embellished Kurta & Palazzo wear at affordable prices.
---
5 . Embroidered Kurta & Churidhar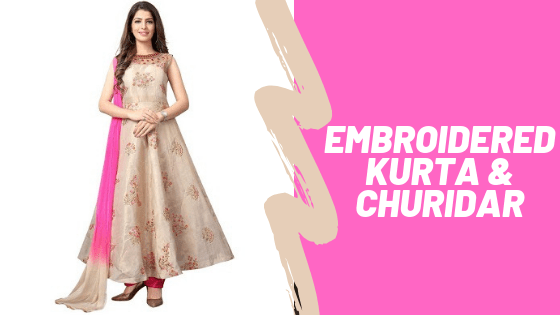 Details: This is another pattern of Punjabi suit that is still in fashion. However, you can go for any other patterns if you are not well-versed with embroidered suits. You can wear this kind of attractive suits for all the festivals and parties, as it is completely traditional or ethnic wear.
---
6 . Printed Kurta & Salwar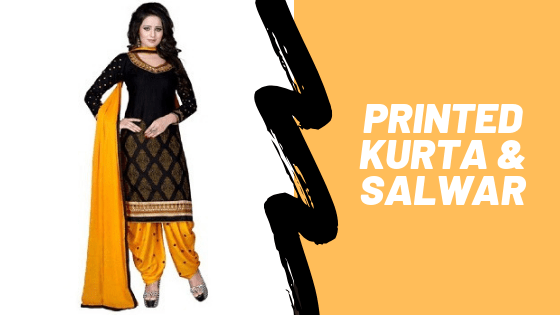 Details: Printed Kurta & Salwar suit is another kind of best Salwar suit designs that comes under the Salwar Kameez family. You can get this particular suit under the best possible price. The sleeves are full, however, you can stitch and get it without sleeves. Again, you can wear it for parties and festivals.
---
7 . Nivah Fashion Women's Pure Cotton Embroidery Patiyala Salwar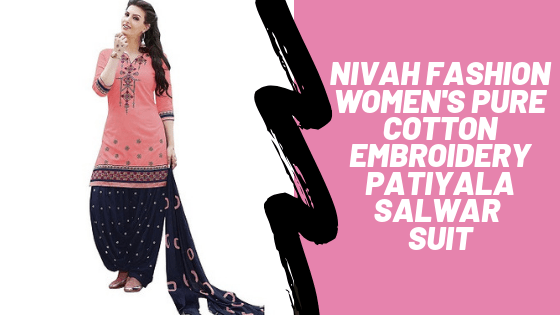 Details: Nivah, the known brand over the internet is now trending with the designer suits. You can get this cotton made suits over many online shopping portals at the most affordable range. Avail for a variety of colors in this design and pattern. Be sure to wash it manually in cold water.
---
8 . Vaamsi Women's Dress Material
Details: Vaamsi- is another popular brand in the fashion market. You can get this particular suit material either stitched or un-stitched over several online brands. It offers a total comfort regardless of the place you are in. You can, of course, afford it on reasonable prices though.
---
9 . Angelfab Women's Cotton Salwar Suit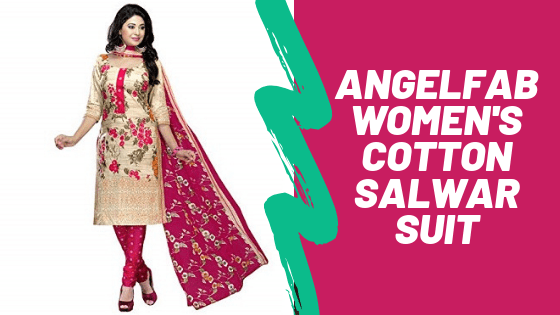 Details: Angelfab, is recently trending brand in the market. If you are looking to try some new or fresh brand from the industry, then you have got to choose this pretty brand and get access to loads of variety. The dress material is made of pure cotton.
---
10 . Kanchnar Women's Cotton Salwar Suit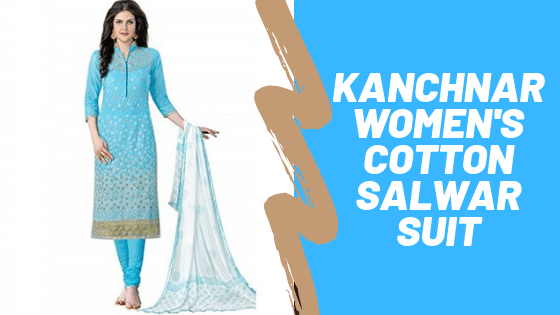 Details: Of course, this material Salwar suit can be worn on any occasion or festival. The suit is made of glace cotton, with a variety of colors. However, you will find many other patterns and designs in several popular websites and shopping portals as well.
---
Well, you can choose any of these to wear over all the occasions. You just have to pick from these varieties and of course, you can get these brands in various popular brand websites and shopping portals as well.