Well, we all are unique, and we all do have our own tastes and preferences when it comes to buying stuff out there, right? This formula applies in choosing music and related accessories too. Inevitably, many of us avail earphones along with our smart phones at the time of purchase itself. But what if that ear bud doesn't suit us? It's simple, just buy another one that would suit- wait I am talking about earphones and not smart phones. So, are we ready to check out the best selling earphones out there?
$ How to choose right smartphone?
$ Top 10 best selling Samsung mobiles
$ New launched mobiles in 2019
Here's the list of Top 10 trending earphones that you must never miss to try-Check them out-
1. MI Basic Wired Headset with Mic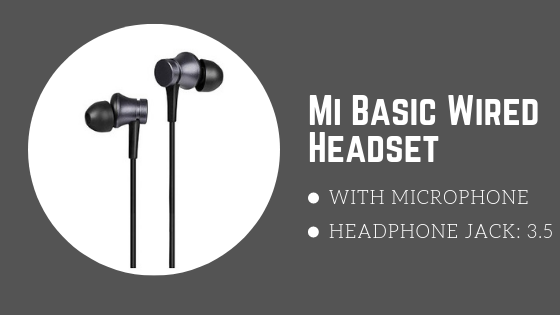 Details: Top-notch design, comfortability and the make of this particular headset are worth appreciable. It already looks classy. You can also go for other color variants apart from black or white. The most significant advantage is it is a basic headset with Mic, suitable for people who prefer wired earphones in a pocket range budget.
Low cost
Lightweight Good sound quality Comfortable
Cable quality is not good
Repressed mids
Average design
---
2. JBL C150SI Wired Headset with Mic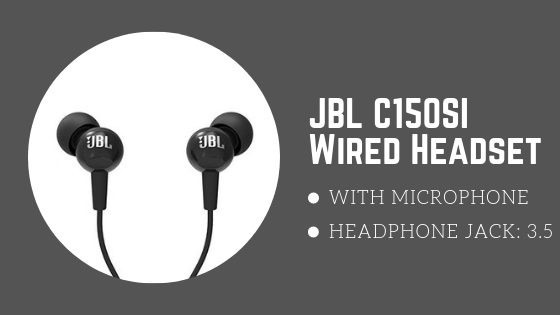 Details: This is another best selling earphone that you must definitely give a try. No doubt, JBL is a great electronics company rocking the market for ages. Quality won't be actually a matter with JBL. The price is affordable too. In fact, this is a basic headset offered from the company to those users who feel comfortable with wired headsets.
Lightweight and comfortable
Sound quality and bass output are good
Nice look
Highs are bit underwhelming
Not water resistant
---
3. Sennheiser CX213 Wired Headphone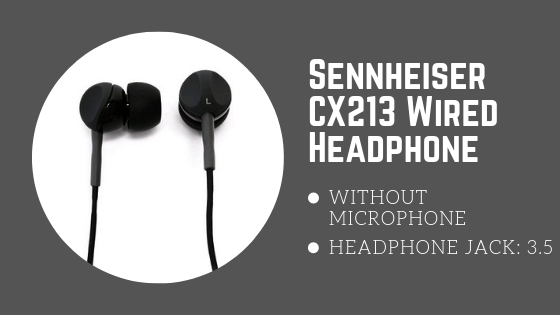 Details: Sennheiser, one such top-selling brand in the electronics market. When we are provided with headsets along with our smart phones at the time of purchase, most of us still prefer to opt for Sennheiser CX213, for a priceless upgrade. This compact and a quality earphones have indeed impressed a lot of users around the corners of this universe.
Lightweight
Bass and sound are good
Good mids and high
Price is quite high
Average build quality
---
4. Skullcandy Ink'd Headset with Mic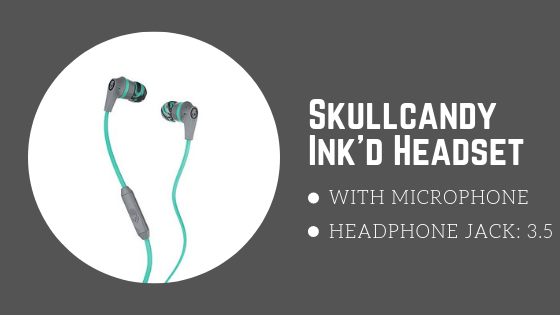 Details: Want to shine in the cool gang? Well, Skullcandy is the ultimate solution for you. A super cool design giving out the best quality with a variety of options is all the users expect. Skullcandy is actually the trend-setter.
Wonderful sound quality
Affordable
Featuring a single button remote and a microphone
Great passive noise isolation
Product reliability is not good
---
5. Sennheiser CX 180 Wired Headphone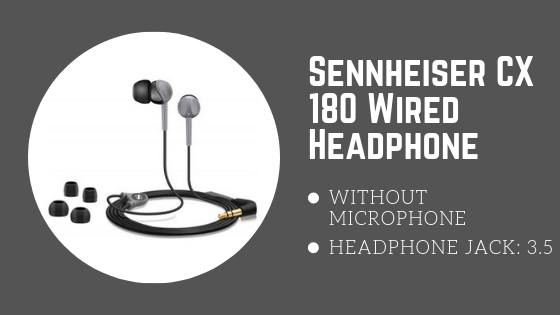 Details: Sennheiser CX 180 is a basic earphone, but it acquired a lot of users towards it. Well, its glossy touch, a comfortable design could be the reason behind. It gives out the perfect grip in the ears, letting the users enjoy the audio to the fullest.
Outstanding sound quality
Good bass
Nice and comfortable design
Build quality is not good
No microphone
---
6. Sony EX14AP Wired Headset with Mic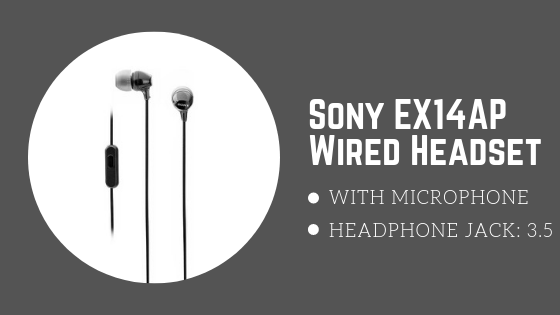 Details: Sony is another bestselling brand in the market. Whether it's their smart phones, laptops, tablets or earphones- it sells itself. Sony EX14AP Wired headset is one such product that has been the most convenient and a budgeted one certainly.
Nice sound and bass quality
Outstanding sound for the price
Music quality is good
---
7. boAt BassHeads 100 Wired Headset with Mic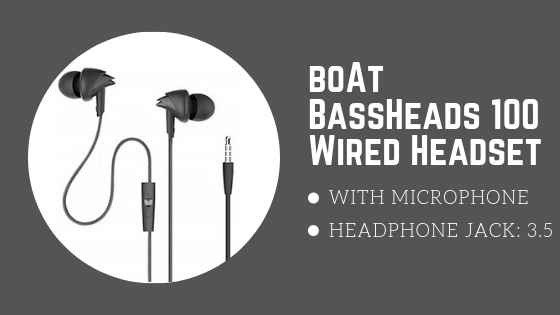 Details: Another fashionable earphone has arrived on the list. Yes, it's an in-ear kind of earphone that most of us generally prefer. It automatically fits within your ears with the ultimate design though. It also has a mic just like the ones mentioned above to play/pause the audio.
Good sound quality and bass
Fits in the ear easily
Good wire length
Affordable price
Product reliability
Low Treble
---
8. boAt BassHeads 220 Super Extra Bass Wired Headset with Mic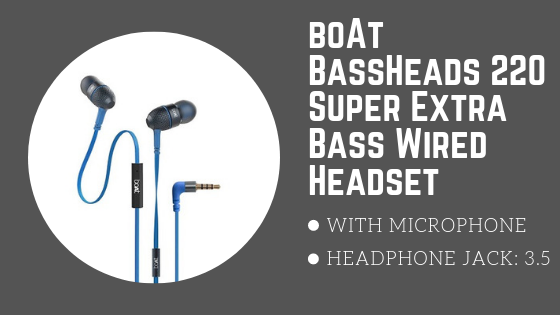 Details: Again, this earphone has got a mic just like the other ones. It is also affordable and under budget though. It has got a 1.2m extensive cable that would undoubtedly make you feel comfortable. The quality of the audio and Bass is the most discussed part of this earphones.
Good sound quality
Good price
Nice look
---
9. Samsung EHS64 Wired Headset with Mic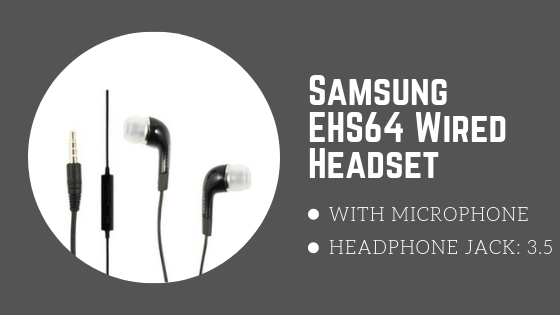 Details: Are you looking for a Bass based earphones from the Samsung brand? Well, your search has ended here. Samsung EHS64 is what I am talking about. It has got a mic that will help you during your calls or probably to play and pause the audio along with the best sound quality.
Nice sound quality and bass quality
Low price
Build quality is good
Average fitting
Poor product reliability
---
10. Audio Technica ATH-CLR100 Wired Headphone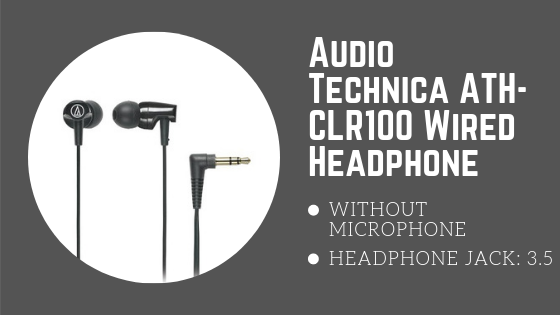 Details: Audio Technica, most of you might not be knowing about this brand. But to be honest, it sells the most significant volume of earphones just like the other ones. Though it has a fierce competition in the market, its audio products still get out of stock due to its ultimate sound and bass quality along with an affordable price tag.
Outstanding sound and bass quality
Ligthweight and comfortable
Clear audio
L-shaped connector
Poor build and wire quality
No microphone
---
Well, hunting for the best earphones is a long road that would never end. Of course, we do have listed the best selling earphones in the market, but picking out of these can be indeed a challenging task for you. Just choose, as per your own convenience, suitability and obviously considering the budget.
The top question which will solve your problems to find the Best Selling Earphones 2019
Which is the best earphone?
If you are looking for the best earphones where you can get everything within your budget. Then you can go for Boat headphones which will give you smooth performance with a good budget. Overall here are the top 10 list of headphones.
Which brand of headphones is the best?
Here you can find all top brands which are mentioned above. You can go for anyone.
Which is the best earphone under 1000 RS?
There are several competitors under 1000 rupees. Like – JBL, Sony, Audio Technica, Boat, Sennheiser, etc. Choose anyone which will give you a nice experience.
Which headphone is best under 500?
boAt BassHeads 100 Wired Headset with Mic is best under 500 rupees.